2021: An Authority Companies Recap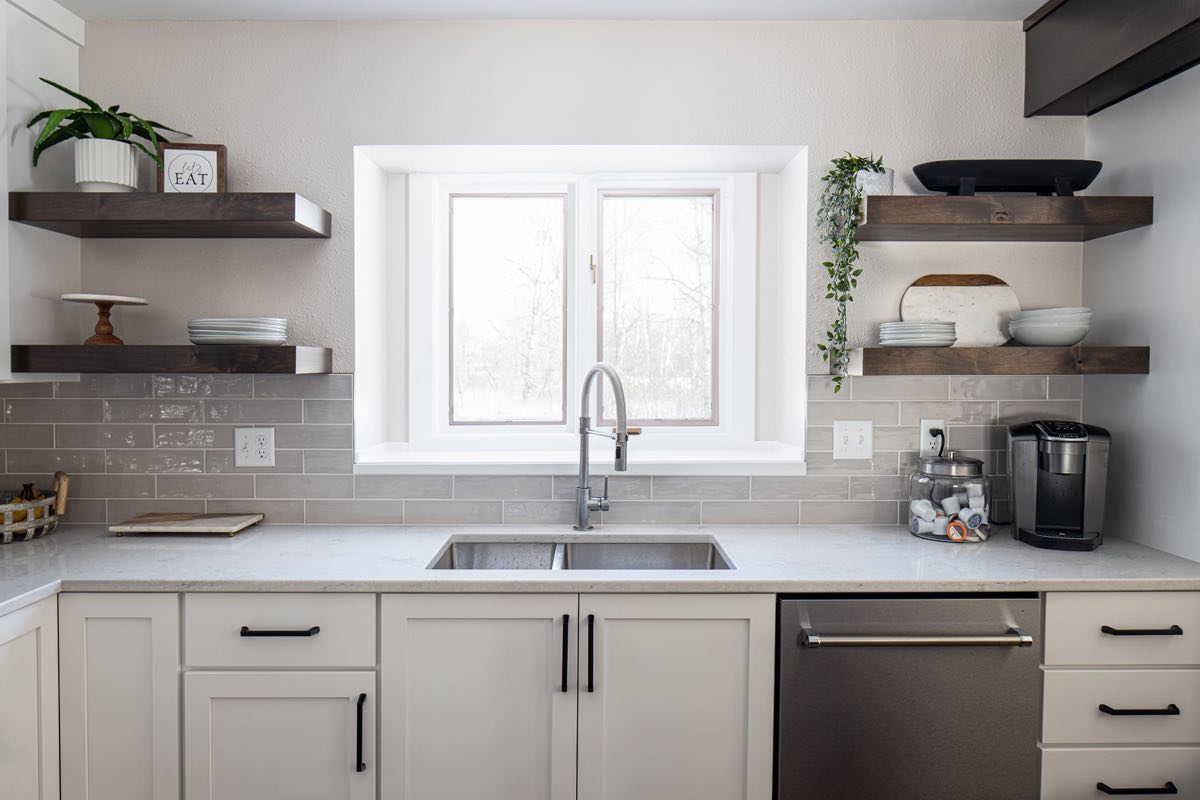 It is hard to believe that another year has wrapped – and what a year it was! We had the opportunity to complete a multitude of exciting projects, and grew our Authority Companies with the launch of Studio A and Authority Home Services. Our showroom officially opened and it has been such a joy further integrating our companies into the Fargo/Moorhead community via this permanent location.
We kicked off the year with the completion of a remodel project that transformed these homeowners' main level from an overload of oak tones to a bright, modern aesthetic. The Home Authority, Inc. lead remodel featured new cabinets from Cabinet Authority, Inc., painted walls/trim/doors by The Coatings Authority, Inc., and a reconfigured layout and design details by Studio A.
Another project highlight in 2021 was for a fantastic family who wanted to update and open up their entryway and main level. We had all of the Authority Companies delivering unique features for this one – including furnishings and design from Studio A, Coatings Authority, Inc. custom coatings throughout (check out the stairway transformation!), new cabinets from Cabinet Authority, Inc., and a smooth process coordinated by Home Authority, Inc.
We worked with a family to bring about cosmetic changes in their kitchen and basement bar to create an updated, like-new feel without making any structural changes. The Coatings Authority, Inc.'s skills were on full display with custom cabinet coatings that made it look like brand new cabinets were installed. New countertops and backsplash brought the design together in the kitchen. And a backsplash and new countertop in the basement bar brought that space to life.
One of our biggest remodel puzzles of 2021 was for a family that desperately wanted open concept, but could not determine how this could be possible with a walled-in staircase right in the middle of their main level. Our team created a new design that cut down the wall around the staircase, incorporated a kitchen island onto its edge, and reconfigured the kitchen layout to fit the new footprint.
We were thrilled to utilize the Cabinet Authority, Inc.'s Gridiron Line in a garage remodel that also featured a durable, beautiful concrete coating from Coatings Authority, Inc. This family's garage went from a dark space that wasn't utilized to a place to work and spend time in.
With multiple additional projects ranging from incorporating pantry cabinets in a family's kitchen to reconfiguring a peninsula kitchen into one featuring a large, multifunctional island – all of the Authority Companies had a busy 2021! And on top of  the projects, we were able to finish our Showroom and open to the public with a Grand Opening celebration. We are so thrilled to have a place for homeowners to come and feel empowered in their remodel or new build journeys via our Inspiration Showroom and Design Center.
Studio A, the design branch of the Authority Companies, offering Interior Design, a Private Collection of home furnishings and artwork, and Custom Fabrication pieces launched this year. With the ability to work with a design team to select everything from bedding to rugs to furniture – you'll love furnishing your home with unique pieces from Studio A. Each remodel or new build project completed with the Authority Companies includes design insight and guidance from Studio A. And you can create one of a kind heirloom pieces via Studio A's custom fabrication branch with incredible live edge tables, desks, shelving, and more.
The Authority Home Services launched to provide continued support for our clients after we've wrapped their projects. This maintenance branch tackles the smaller projects that are just too big for you to handle – and we are thrilled to have a full spectrum of home offerings under the Authority Companies umbrella.
We are so excited to see what 2022 brings, with multiple projects already underway that we can't wait to share with you. Our gratitude to you, our community, is impossible to articulate in a single blog post – but we are indescribably grateful for your support that has allowed us to continue to grow and evolve. We wish you and your families all the best in the new year – and we look forward to being your home remodel and new build one stop shop in 2022!