Experience The Joys Of Holiday Hosting
Panicking about Holiday Hosting? If the idea of having family and friends descend on your home is anxiety-provoking vs. exciting, it's time to make a change! When your dated kitchen design feels embarrassing, your appliances aren't functioning the way they should, or your color scheme makes you want to cover every square inch with holiday decor…we can help! Feel confident welcoming family and friends into a home that truly reflects your design. Whether you completely gut your space or simply eliminate the Oak Overload with quality cabinet refinishing – our Authority Companies work together to create spaces that showcase you and your family's style. For increased functionality, add an island in the kitchen or more storage space in the bathroom via custom cabinetry. Make the entire project an enjoyable one with the guidance and expertise of a general contractor that understands the importance of creating an exceptional experience AND end result. Let's dive into the four major hurdles to experience Holiday Hosting bliss, and the subsequent steps you can take to create the hosting experience you deserve!
HURDLE #1:
Oak Overload has taken over my kitchen!
Do dated cabinets have you dreading decking the halls? Feeling like your cabinet color has your home stuck in decades past can dampen the excitement of inviting friends and family into your home. Rather than spend another year with refinished cabinets on your holiday wishlist, why not tackle this project in the new year – and get it done right so that your updated cabinets will last for many holidays to come? The Coatings Authority, Inc. has a proprietary AUTHORICOAT process that has been honed and perfected for over 25 years. With proper surface preparation, custom paint blends, and an application process that is second to none – The Coatings Authority team will take your tired cabinets and give them new life with a beautiful coating that fits your desired design aesthetic.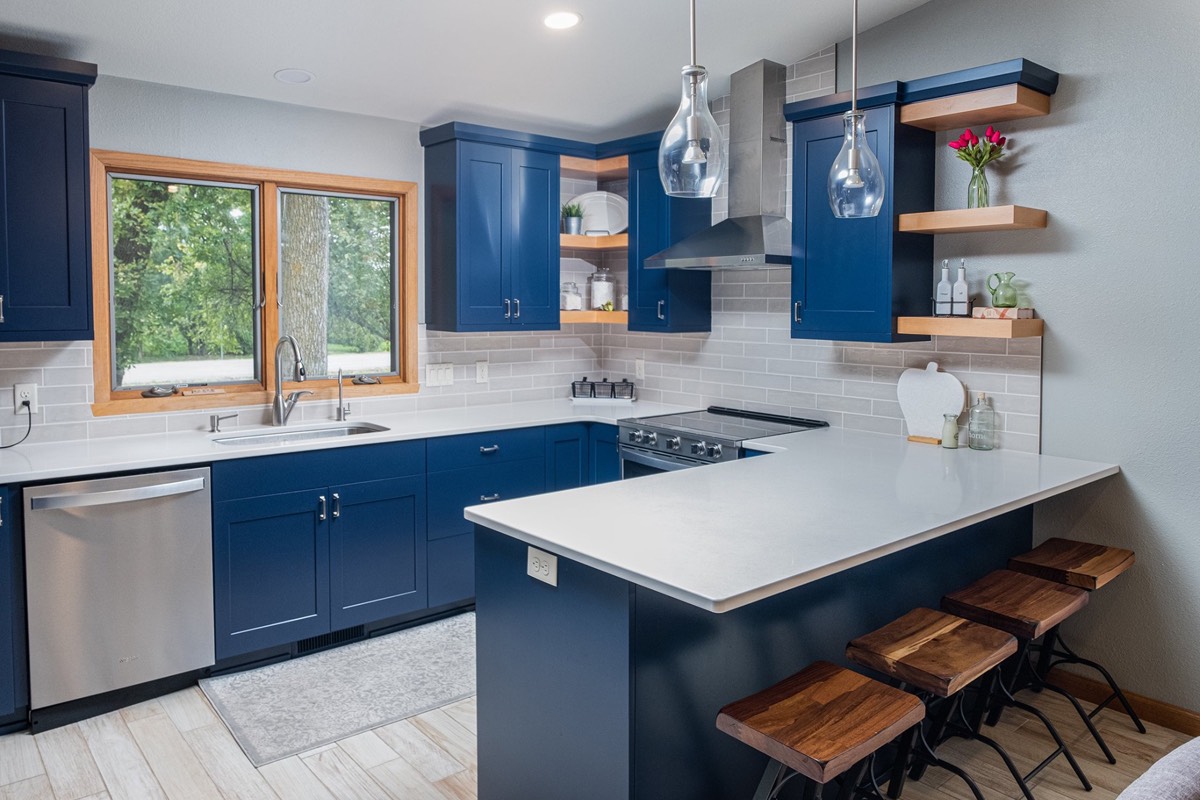 Imagine hosting in your kitchen surrounded by clean, crisp white cabinets. Or envision pulling your charcuterie boards out of a boldly beautiful blue island. Your next holiday can feature the cabinet color you've been dreaming of, and give you visions of confident hosting dancing in your head!
HURDLE #2:
There's nowhere to fit __________!
An ill-equipped storage space can wreak havoc on your happy hosting plans. From limited pantry space to an entry closet in disarray, trying to wrangle an increased amount of ingredients or people to sit or coats to store can quickly derail even the best planned gatherings. Set yourself up for year-round storage bliss with custom cabinetry solutions from Cabinet Authority, Inc.! Cabinet Authority, Inc. features three unique lines that provide solutions to any and all cabinetry needs. Legendary Cabinets will build out your dream pantry set-ups, and craft the perfectly sized island for your space – providing additional storage AND seating for day to day use as well as bigger get togethers. Signature Shelving & Storage Solutions provides the closet customization you've always wanted, with practical and beautiful elements that allow you to tackle your hosting duties with ease.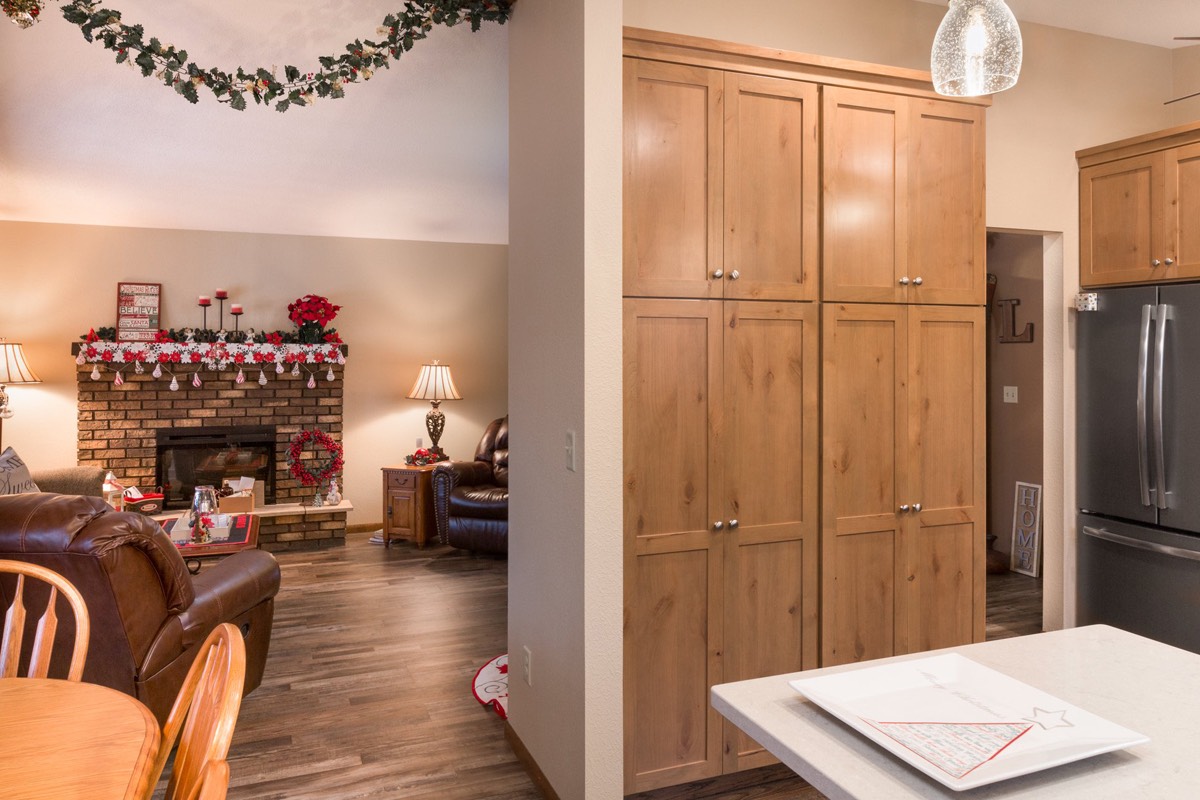 Cabinets will have everyone gathering in the garage to drool over your incredible toy and tool storage set-ups, with durable cabinets, slatwall systems, and so much more. Don't fight for more space that simply isn't there…create the space you need with custom cabinetry for every area of your home!
HURDLE #3:
My house looks nothing like I want it to!
Determining your personal style can be a challenge in and of itself…translating that into your home and its individual spaces that also need to flow together can seem absolutely impossible! Studio A's design team is here to curate the overall design of your home with you to allow it to be a true reflection of you and your family – with an extensive private collection of home furnishings and custom fabrication pieces to bring it all to life! With so many moving parts in crafting a home's design, you need an expert hand to take your ideas and carry them out in a way that makes sense in your spaces. Determining what throw pillows go with what rug, that also coordinate with the curtains so that everything compliments the paint color is no easy task! Trusting a professional to listen to your wishlist while also bringing it together so that it just works is key to really loving your home.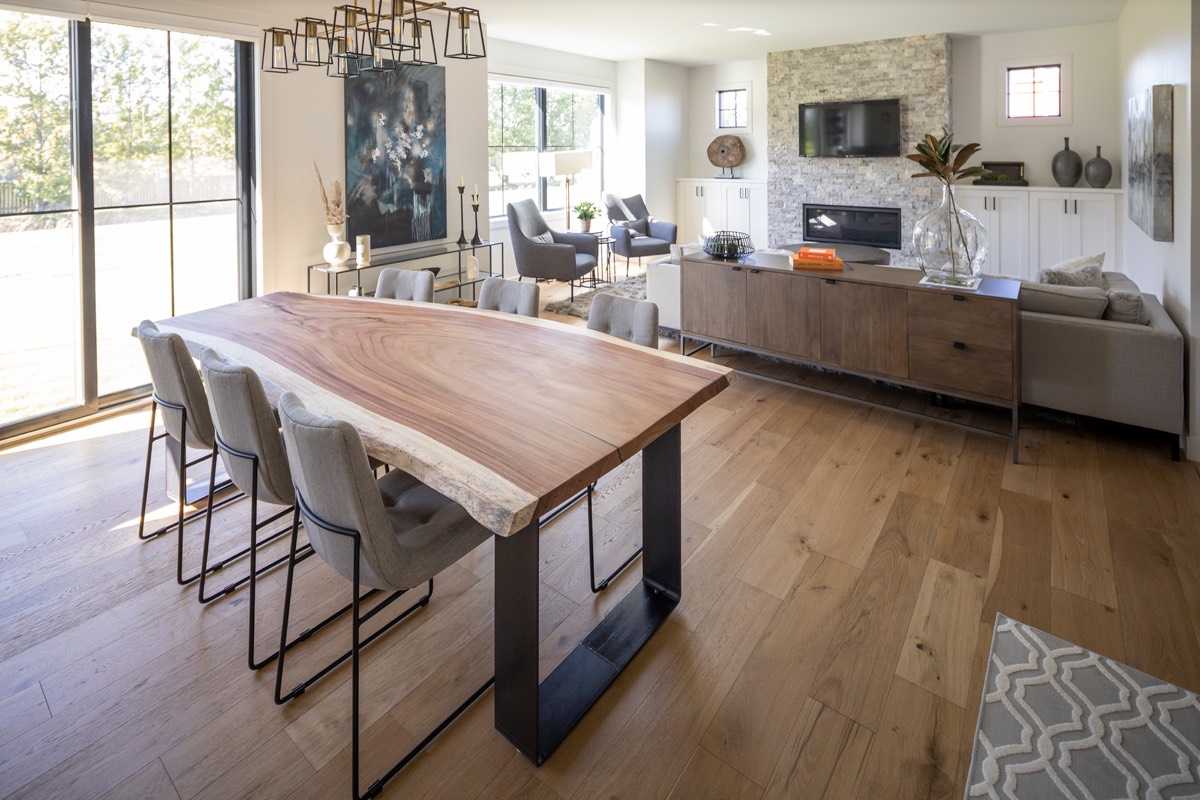 When you have guests over for the holidays, you want to feel like you are welcoming them into your home. Not the same house as everyone else, not a carbon copy of the neighbor's house, but a home that reflects the unique personalities of you and your family. Put the pieces of your home's interior design together with Studio A's team – and equip yourself with the elements you need to host with confidence!
HURDLE #4:
I'm trapped in the kitchen!
Feel like you are missing out on all of the hosting fun tucked away in your boxed-in kitchen? Sometimes creating your ideal hosting set-up involves a major remodel – and one that will ultimately make your day to day life immeasurably better! If your kitchen feels far-removed from the action, and you're wanting to create an open-concept flow, trust a general contractor that can get the job done right the first time. Why wait until the next round of holidays to frantically try and make your closed-off kitchen work for hosting? Start the remodel process now to allow for an enjoyable kitchen experience all year long. And trust a team that can deliver your renovation dreams in an efficient manner, and not leave you in a construction zone for months on end.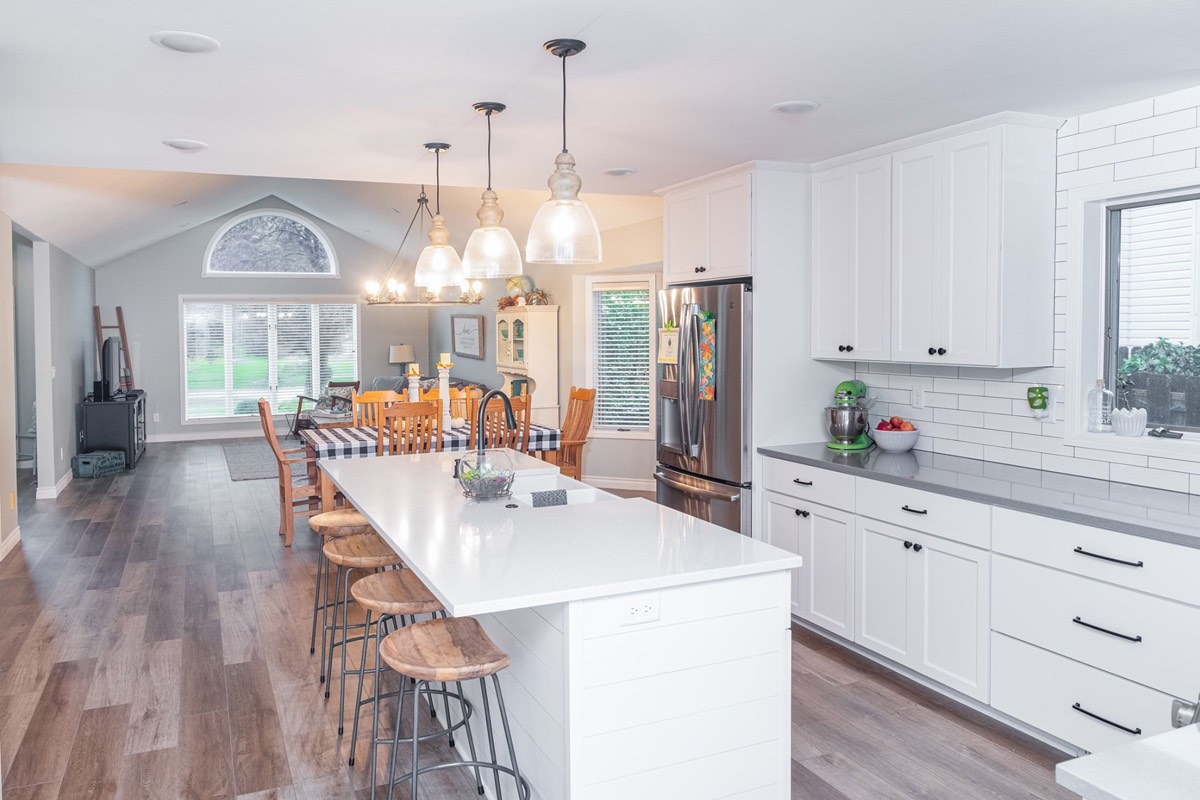 The Home Authority, Inc.'s mission is to bring families together – and their trusted team will work diligently and efficiently to bring about the changes your home needs to make that a reality. Whether you are tearing down walls to open up the kitchen or removing a cabinet peninsula, you can rest assured the job will be done with quality at the forefront – ensuring a positive return on investment, which is the gift that keeps on giving!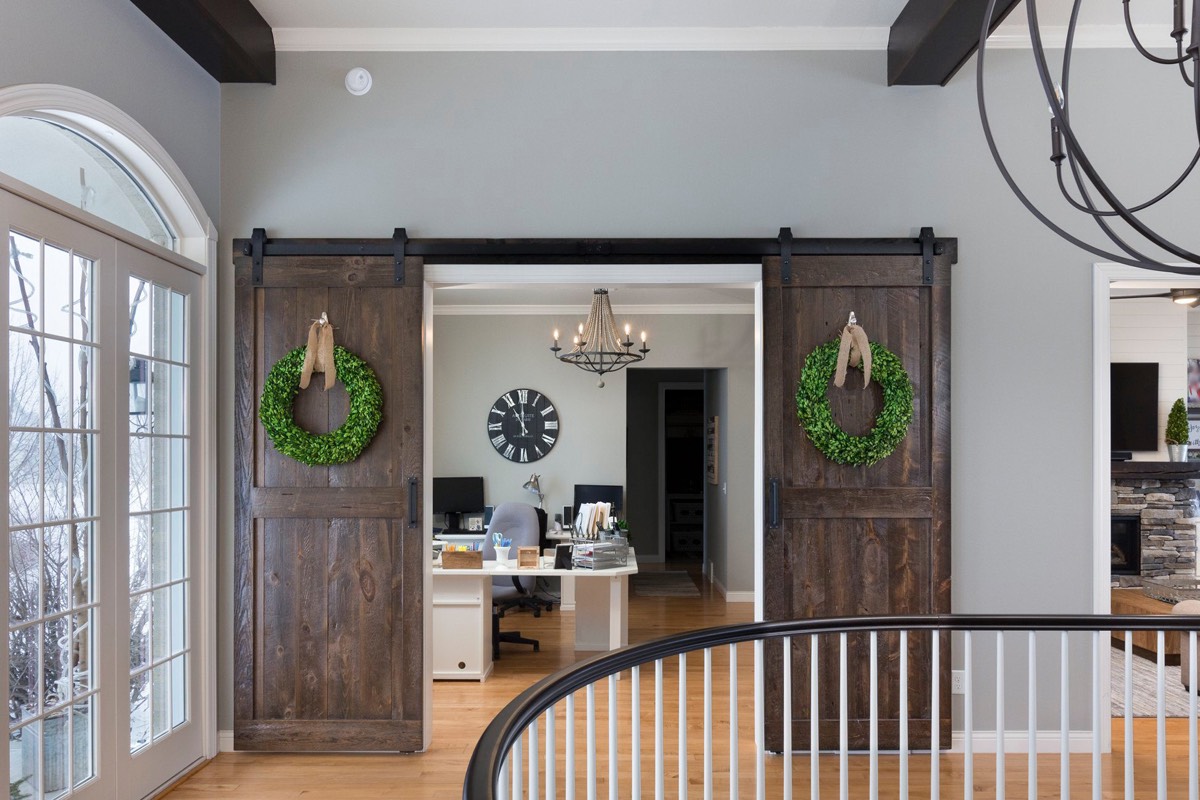 You deserve to look forward to holiday hosting in a house that feels like your home. Showcase your spaces with pride when friends and family gather, and enjoy time spent in a home that looks and functions the way you've always dreamed it could. Don't delay in making your remodel dreams a reality! Our Authority Companies – The Coatings Authority, Cabinet Authority, Studio A, and The Home Authority – are ready to provide you with both an experience and end result you'll truly love. Tell us about what's on your home wishlist this holiday season HERE and from our family to yours – Happy Holidays!